This month's theme the challenge on the
Glitz blog
is celebrating the special women in your life. I chose to scrap a photo of my sister with her baby girl.
I used the sketch from
OUAS
to create the layout. All of the embellishments on this layout are handmade.
First I cut the little airplanes from the PP and used them as a mask to create the background. I misted with blue glimmermist and added a few brown glimmer drops. I stamped the rest of the background with a little stamp with tiny stars. I cut the bicycle from the patterned paper, created spokes and covered it with glossy accents.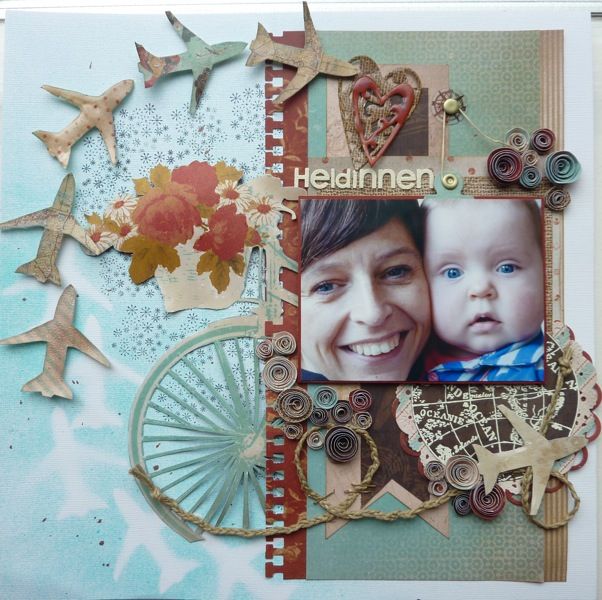 I applied clear rock candy distress crackle on the airplanes and used foamtape, so they come off the page
The hearts are created with a die and then covered with glossy accents. The photo mat has hidden journaling, and I wanted to create a closure, so I stamped on a piece of clear art and added a closed eyelet with a small piece of scrappers' floss
I stamped & clear embossed a large globe on the patterned paper and layered it with different die-cut pieces of PP
I created the weave from 3 strings of hennep rope which I stapled to the layout.
The photomat opens into journalling, which translates in English to:
"My sister Marielle & niece Pien are for me true heroines. In 2011 my sister and I went on a short holiday in Egypt. At the time she was 32 weeks pregnant. We could never have known that that week turned out to be one of the most scary weeks of our lives. On day four of our holiday my sister's water broke and we rushed to the hospital in Sharm-El-Sheikh, actually the same hospital were former President Mubarak was at that same time. We called her husband who was at home in The Netherlands with their 2 year old son. He flew into Egypt the next morning. Two days later my sister was rushed into the operating room, all by herself with 4 Arabic doctors to have a ceasarean section. Neither her husband nor me was allowed to support my sister during that terrifying time. Her husband and me were nervously waiting to hear that both mother and child would be ok. On April 25, 2011 my little niece Pien was born. 8 weeks too early and so incredibly small, but definately healthy. This whole experience made the bond between my sister and I stronger than ever. The fact that I was the first to hold little Pien, half an hour after she was born, to take her 2 stairs down in the hospital to meet her mommy, my sister, has left a huge impact on me. My love for my niece will always have that deep dimension because of that incredible moment. Both women have fought for their wellbeing in that pretty mediocre health care facility, without the natal care we are used to at home. They have fought to be able to come home to the Netherlands, which fortunately already happened 10 days after Pien was born. Now, more than 1 year later, they are both amazing, healthy and strong. For that they are my true heroines."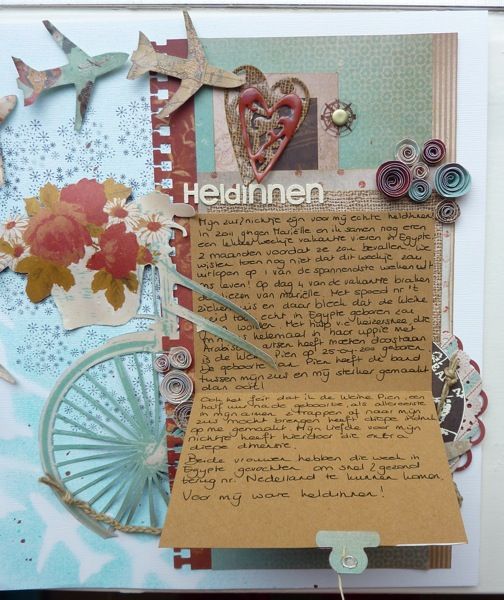 XX, Rianne